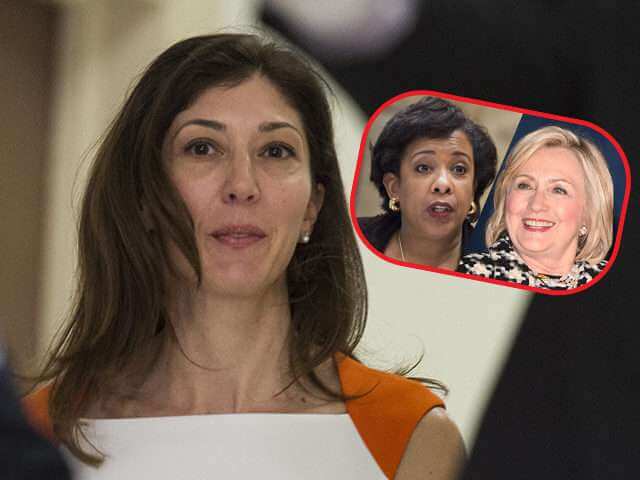 Former FBI legal counsel Lisa Page testified to Congress that the Justice Department ordered the FBI not to charge former Secretary of State Hillary Clinton with "gross negligence" by mishandling classified information.
Transcripts of Page's closed-door testimony in July 2018 were released Tuesday by Rep. Doug Collins (R-GA) on Tuesday, which included the following exchange with Rep. John Ratcliffe (R-TX):
RATCLIFFE: So let me if I can, I know I'm testing your memory. But when you say advice you got from the Department, you're making it sound like it was the Department that told you: You're not going to charge gross negligence because we're the prosecutors and we're telling you we're not going to …
PAGE: That is correct.
Commentary & Analysis
by
L. A. Marzulli
#COVERUP!
Why isn't the MSM running with this story? Answer: They're too busy digging up dirt on Tucker Carlson and looking for Russian collusion from the Trump 2016 presidential campaign!
The MSM is foaming at the mouth over the border wall! How dare Trump bring order to chaos! Besides most of the millions of people who find their way into the USA illegally will vote Democratic, thus creating a permanent ruling class, which is the end game!
In my opinion, Page's testimony is just the tip of the iceberg to the chilling facts that will hopefully emerge form the icy depths of the deep state soon. Notice that it's the Obama Justice Department who is pulling the strings, who is making sure Hillary isn't charged.
I would posit that the Dems and the Obama White House looked at the polls and figured Hillary was a shoo-in. In fact, all the polls but one had Hillary in the lead and some by double digits. (see chart from 2016 on the left)
Is it possible that the Obama Justice Department skirted the law, looked the other way figuring no one would ever find out about their little "tap-dance?" Hmmm?
Where are the Republicans? Why hasn't Mitch McConnel done something? Why is this blatant violation and manipulation of the law being ignored?
Then we have the bogus FISA warrant which was used to literally Spy on the Trump campaign, which is more of the same manipulation by what I would call The Deep State.
The real Russian collusion can be traced back to Uranium 1, which of course involves the Clintons. Why was Donna Brazil afraid for her life as she proclaimed in her book? Why did Bernie Sanders lose in the primaries on multiple coin tosses? Why did Debbie Wasserman-Shultz step down? Why was Seth Rich murdered? Who bleached Hillary's hard drives? Why would debate questions be given to Hillary before the debate? Totally rigged, and manipulated.
WWG1WGA